Are you looking for the perfect name for your new pet hedgehog? If so, you've come to the right place! This article contains 150+ of the best hedgehog names for your spiky friend.
From classic favorites to unique and creative choices, there is something for everyone. Whether your hedgehog is a boy, girl, or unisex, you will find plenty of options here.
How to choose a hedgehog name
Choosing a name for your new hedgehog is an exciting step in owning one of these unique and adorable pets! From monikers inspired by pop culture to those with special meanings, there are endless possibilities for naming your companion. Here are some tips on how to pick the perfect hedgehog name.
First, consider the type of personality you want your hedgehog to embody. Do you want them to have a cute and cuddly title like Cottontail or something more spunky like Spike? Once you've narrowed down the vibe you're looking for, start brainstorming names that encompass those qualities.
You could also use specific characteristics about the animal as inspiration, such as its color or markings!
Hedgehogs are known for their spiky protection. Names that refer to spikiness, such as Pincushion or Stabby are classic choices for pet hedgehogs.
Top hedgehog names
These are some of the most popular hedgehog names. We've only included the best of the best options in this list:
| | |
| --- | --- |
| Cactus | You can't go wrong by naming your prickly friend after the spiky plant. |
| Quill | A pretty name that refers to the spines of the hedgehog. |
| Prickles | A spiky name for a spiky pet! |
| Sonic | There's no doubt that Sonic the Hedgehog is the most famous fictional hedgehog. |
| Spike | A hedgehog name can't get any more classic than this one. |
Girl hedgehog names
Are you hoping to name your hedgehog girl? Get inspired by these cute female hedgehog names!
Alice
Bruna
Ginger
Harmony
Harriet
Hazel
Hedwig
Heidi
Helga
Helly
Henrietta
Hermione
Holly
Lily
Midge
Ruby
Sofy
Sonya
Hedgehog names male
Here's a collection of cute boy hedgehog names for your spiky buddy!
Alfred
Bruce
Bruno
Edgar
Harold
Harrison
Harry
Harvey
Henry
Herbert
Hercules
Horace
Hugh
Hugo
Jasper
Ridge
Rufus
Famous hedgehog names
Did you spend your childhood collecting rings and dodging evil robot animals, as I did? Then, you know who's the most famous hedgehog ever!
| | |
| --- | --- |
| Hogglestock | A talking hedgehog in C.S. Lewis's fantasy book series The Chronicles of Narnia. |
| Kiroileva siili | A famous Finnish comic strip by Milla Paloniemi. The main character is a swearing hedgehog. |
| Mrs. Tiggywinkle | A hedgehog laundress in Beatrix Potter's children's book The Tale of Mrs. Tiggywinkle. |
Hedgehog names in Sonic the Hedgehog
| | |
| --- | --- |
| Amy Rose | A pink female hedgehog in the Sonic the Hedgehog universe. Has a crush on Sonic. |
| Knuckles | Knuckles the Echidna is a red echidna. He's Sonic the Hedgehog's friend and former rival. |
| Shadow | Shadow the Hedgehog is a black and red hedgehog in Sega's Sonic the Hedgehog universe. |
| Silver | Silver the Hedgehog is a video game character in the Sonic the Hedgehog universe. |
| Sonic | Sonic the Hedgehog is a blue hedgehog video game character. |
Cartoon hedgehog names
| | |
| --- | --- |
| Alfred Hedgehog | An anthropomorphic green-eyed hedgehog in the animated series The Mysteries of Alfred Hedgehog. |
| Louis | A molehog in the Ice Age movies. |
| Russell Ferguson | A male European hedgehog in Littlest Pet Shop. |
Disney hedgehog names
Most Disney hedgehogs are side characters. The most well-known must be Mr. Pricklepants, the plush hedgehog toy from Toy Story!
| | |
| --- | --- |
| Dr. Exeter | A hedgehog professor. The antagonist in the Timon & Pumbaa episode "Pig-Malion". |
| Hank | Hedy's dad in T.O.T.S. |
| Hedy | A baby hedgehog in the T.O.T.S. episode "Daddy Delivery". |
| Mr. Pricklepants | A stuffed hedgehog toy in Toy Story 3 and Toy Story 4. |
| Mr. Quill | An older hedgehog in the T.O.T.S. episode "The Bunny Punch". |
Cool hedgehog names
Hedgehogs may be cute little spineballs, but they're also badass animals! These names bring out the wild side of hedgehogs. They will help depict these nocturnal omnivores as mysterious hunters of the night!
Chance
Chaser
Dusk
Hercules
Hunter
Hurricane
Midnight
Mr. or Ms. Danger
Nyx
Shadow
Sneaky
Twilight
Albino hedgehog names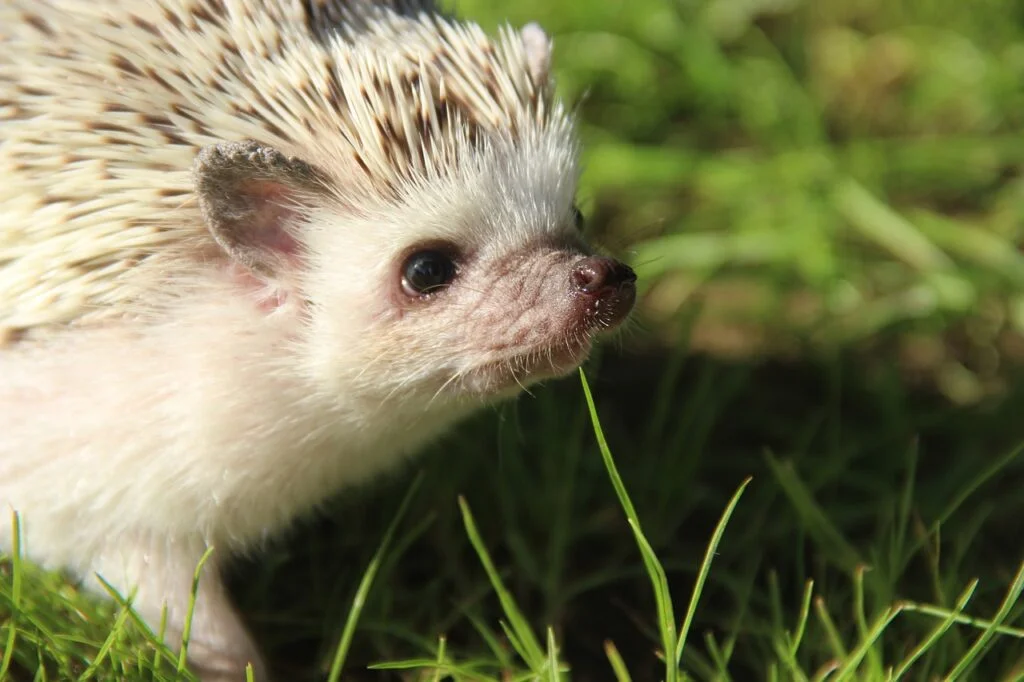 Only one in 100,000 hedgehogs are albinos, so albino hedgehogs are extremely rare. They don't have any pigment, so they're white with red eyes. Here are some name ideas for your pale beauty!
Albus
Angel
Blanca
Blanche
Blanco
Blondie
Cloud
Finn
Fiona
Halloumi
Latte
Luna
Phantom
Powder
Selena
Snowspike
Vanilla
Whipcream
Whitney
Names for pet hedgehog
Hedgehogs are incredibly endearing animals with personalities and quirks that make them stand out from other small pets. These pet hedgehog names will make your prickly friend stand out!
Brownie
Cottontail
Dash
Fudge
Grumpy
Haribo
Hershey
Lilo
Moody
Oreo
Pinky
Pricklehug
Rumbles
Sticky
Twix
Cutest hedgehog names
From their cute faces to how they ball up, hedgehogs are irresistibly adorable! These cute hedgehog names reflect the insane cuteness of these animals.
Biscuit
Candy
Cookie
Fluffy
Hedgie
Hoglet
Mini
Muffin
Pinball
Sniffles
Snuggles
Tapioca
Waffle
Zippy
Clever hedgehog names
Hedgy
Pincushion
Poker
Pokey
Pokinator
Prickle
Spike Lee
Spikester
Stabby
Thorn
Hedgehog pun names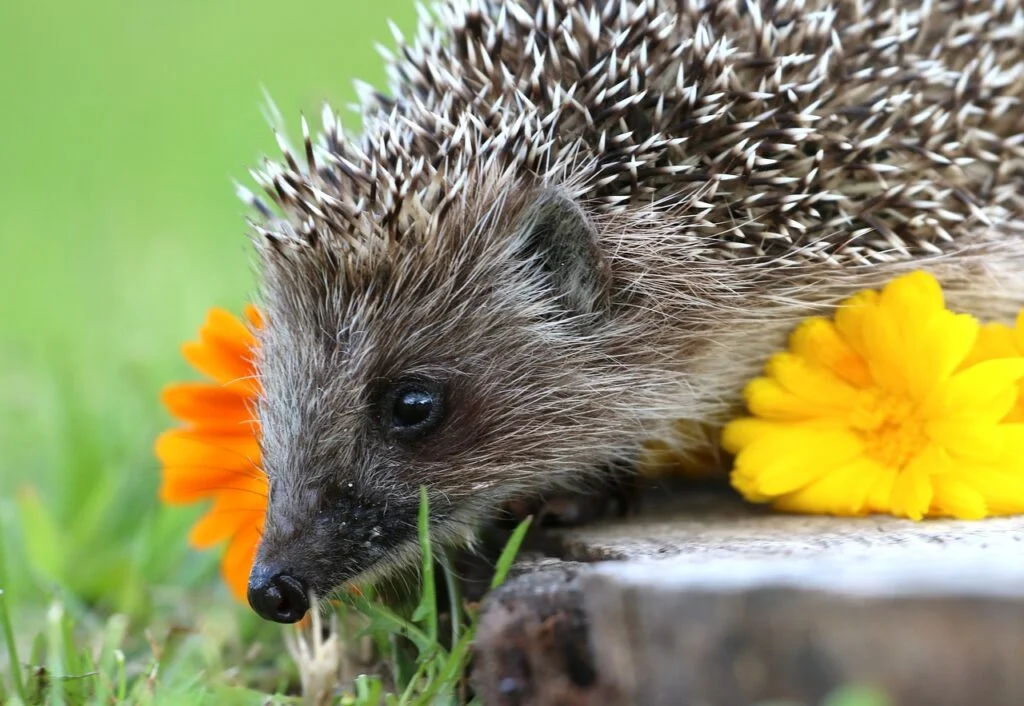 Sometimes you want to let loose when naming your pet. These punny and funny hedgehog names will let you do just that!
Hedgehog Holmes
Hedgehug
Hedgemon
Hedginator
Hogtavia
Hogtoberfest
Hogzilla
Prince Quilliam
Quill Smith
Good hedgehog names ideas
Berry
Diesel
Frodo
Goldie
Harlow
Hog
Hoggle
Hoggy
Hufflepuff
Jade
Merlin
Muscot
Needles
Nutmeg
Pepper
Pickles
Pippie
Pudgie
Hedgehog FAQ
What do you call a male hedgehog?
A male hedgehog is called a boar, just like a male hog.
What is a female hedgehog called?
A female hedgehog is called a sow, which is also what you call a female pig.
However, hedgehogs are not related to pigs, despite the word "hog" in their name.
What do you call a baby hedgehog?
A baby hedgehog is called a hoglet.
Also read: